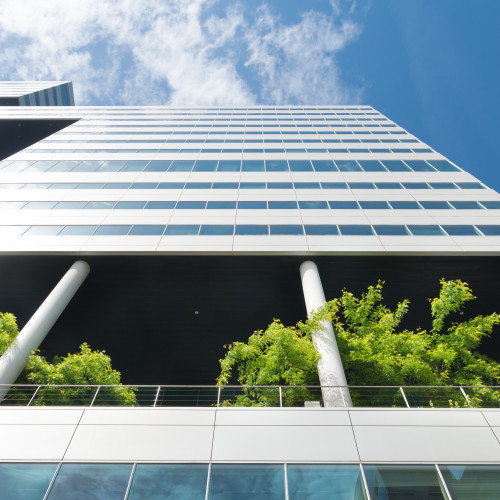 Investments
Enhancing and affirming our socially responsible investment policy
In line with its mission and the United Nations' sustainable development objectives, our group is backed up by a symbolic investment policy that is consistent with our values to conciliate performance and risk management long-term.
This approach allows us to promote innovation and expertise, encourage best practice sharing and development and participate in value creation with our customers and members within our markets. We therefore contribute to a sustainable world that benefits patients and the public.
Convinced of the impact of Environmental, Social and Governance (ESG) issues on the performance of investment portfolios and of the requisite alignment of interests with the broader Company objectives, Relyens  strengthened its commitment by joining the Principles for Responsible Investment (PRI) in 2021. Consequently, the Group has joined an international network of over 3,000 investors and companies dedicated to promoting sustainable, long-term investments.
Read our responsible investment charter
plus portfolio breakdown by asset class
of our balance sheet value dedicated to hospital financing
of our portfolio invested in green or sustainable bonds
of our financial investments spent on regional stakeholders
Supporting our customers and members to promote their transition to a sustainable model
Healthcare actors
Relyens contributes to the development and improvement of hospital facilities. We have invested more than a total of €175 million in 40 hospitals since the partnership with Arkéa Banque Entreprises et Institutionnels was formed in 2016. Since 2009, our Group has also been present on the bond market for University Hospital Centres (UHC) and Hospital Centre (HC) bonds.
Territorial actors
As partners since 2018, Relyens and Sienna Crédit have contributed €100 million to public sector actors through 80 operations mainly carried out via the Relyens Investissements et Territoires fund. These sustainable investments have made it possible to actively participate in the financing of numerous public facilities, such as schools, waste sorting and recycling centres, social housing and even care homes. Consistent with its social and environmental objectives, Relyens is working on reorienting funds towards projects with a strong environmental dimension.
équipements publics, comme des écoles, des centres de tri et de valorisation, des logements sociaux ou encore des EHPAD. En cohérence avec ses objectifs sociaux et environnementaux, Relyens a réorienté le fonds vers des projets à forte dimension écologique.


Promoting innovation in the healthcare sector
Through its private equity activity, Relyens supports innovative healthcare companies in their early stages and/or their growth projects. To achieve this, our Group relies on Relyens Innovation Santé, with its investment structure focused on the digitalisation of tenders, breakthrough technologies and medical research development, in partnership with Turenne Capital. Relyens also directly invests in the capital of innovative companies that provide a solution for cybersecurity, medical and human resource risks, and those that improve the quality of care.
In addition, the Group diversifies its investments by subscribing to funds focused on healthcare and is involved in the entire value creation chain, from supporting medical innovation research, product and commercial development, to the transfer of companies established in their sectors.
Relyens innovates


Boosting and maintaining the fabric of the local economy
As an institutional investor, our Group has devoted a share of its assets to financing the real economy, aimed at SMEs and ETIs. With our expertise in financial investments, we complement the existing banking offer by supporting companies with their projects over the medium to long-term, while focusing on their attractiveness and transparency.
In November 2021, alongside 18 insurers from France Assureurs, and la Caisse des Dépôts, Relyens participated in the creation of the "Obligations Relance" investment fund, which was allocated 1.7 billion euros, and was one of the elements of the Ministry of the Economy, Finance and Recovery's Recovery Plan. The aim of this scheme is to support SMEs and ETIs with their growth and transformation after the health crisis.
Since 2022, Relyens has entrusted the management of its private debt investments to Eiffel Investment Groupe, a pioneer in positive impact investment. Private debt assets that today total an outstanding amount of approximately 120 million euros, representing investment in 26 companies. The portfolio should eventually reach a target size of 150 million euros. Objective: to continue our investments by optimising the selection process, the financing monitoring and the consideration of impact criteria.


Financing projects and companies with a high social and environmental impact
Our Group is committed to the consideration of Environmental, Social and Governance (ESG) criteria in the analysis of the companies financed, to promote the implementation of their ESG policy and to encourage transparency on these subjects. We invest an increasing share of our bond investments in Green or Sustainable issues.
In 2021, Relyens also issued a sustainable bond for an amount of €84 million to strengthen the Group's regulatory capital in a context of strong growth in Italy, Spain and Germany and with the aim of investing in projects with a high environmental and social impact.
Read our 1rst report in accordance with the French climate and energy law


Contributing to the property sector
It has become imperative that the property industry reacts immediately to carbon neutrality and corporate social responsibility. This is why, at Relyens we perceive a different kind of urbanisation that included citizens' well-being and quality of life at the heart of property concerns: attractive rental positioning, service provision, building quality…
To this end, we are actively participating in the Lyon metropolitan area's property portfolio renewal, the Group's home territory, and also in other urban areas of the Auvergne-Rhône-Alpes region. At the heart of our management and our new asset selection process there are two concerns: the town of tomorrow and responsible performance.
We also apply this approach to the property we own.  Today, nearly 71% of our properties comply with at least RT 2012, 46% of which have been awarded a label or certification (e.g. BREEAM).


An investment policy supported by Relyens'  strength and performance
Our model is valued and recognised by the  AM Best rating agency, which has confirmed our "A- (Excellent) – stable outlook" rating for the 8th consecutive year.  This rating demonstrates the strength and efficiency of Relyens' strategy and positioning as a leading European Insurer and Risk Manager for healthcare and regional actors.
Find out more