Social
A learning company, focused on its employees
As a risk manager and a responsible european employer, our group is committed to a process of continuous growth. As part of this process, we are working on three focus areas: quality of working life (qwl), skills development and the continuous improvement of our management and collaborative approaches.
Ensuring the wellbeing of our teams
Relyens has always paid close attention to protecting its teams and promoting employee fulfilment. We have made our quality of work life (qwl) approach an integral part of our corporate strategy: for our teams, this virtuous approach is a way of ensuring satisfaction, motivation, engagement and employability.
For the group, it fosters sustainable performance and the attractiveness of our entities.
It strikes a healthy balance benefiting both employer and employees that we develop and maintain over time.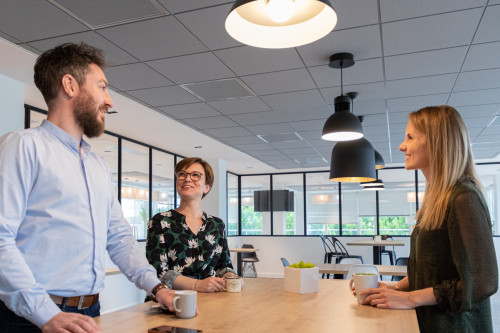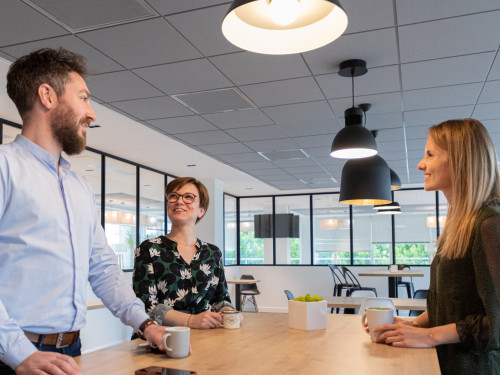 Childcare, housing, sport, daily help for a family member, school support, administrative tasks…. The list goes on. Previously seen as personal issues, all these aspects now form an integral part of our working environment.
At Relyens, we take these issues on board by providing our employees with assistance and support services to facilitate their daily lives. These include a dedicated platform offering support for parenting, together with coaching and home assistance services for caregivers, health and wellbeing information, housing assistance through France's action logement programme, addiction prevention and support, and more.
Since march 2020, our working arrangements have been transformed. We experienced several periods of remote working due to the health crisis, during which working conditions could be difficult: sudden change of routine, periods of stress, home working environments that were not always ideal, etc. During this period, all our employees demonstrated their resilience and commitment and we were able to adapt.
Nowadays, as we adapt to the changes resulting from the new work approach, we are transitioning to hybrid working, with our teams combining remote working with days in the office each week.
Our goal: to take advantage of the benefits of both on-site and remote working while avoiding the pitfalls of both arrangements.
To achieve this, we are rethinking our working habits: our communication practices, our relationship with the group community, our organisational methods. We also train our employees and provide them with appropriate IT equipment so that they can work confidently and efficiently in this new environment.
Implementing hybrid working will enable us to improve quality of life at work for our employees, ensuring agility, individual and collective efficiency. It reinforces the sense of belonging to the group and ensures that we continue to attract the best talents.
Convinced that the working environment affects employees' mindset, creativity, decision-making and energy at work, we have redesigned our premises and provided our teams with the necessary tools to facilitate hybrid collaborative working in our offices. As part of its qwl approach, the group raises awareness on workstation ergonomics.
We want to enable everyone to work in optimal environments and feel at home in all of Relyens' offices.
Within the walls of Relyens
It also involves:
A social barometer to measure the social climate within the group
A concierge service to facilitate employees' daily lives
A gym with personal trainers and group sessions
Informal events arranged across all our sites
Supporting skill development
Continuous training for all
If you need extra support to meet a new target, a little help to move your project forward, or a way to consolidate your skills… Whatever the reason, at Relyens you can ask for training in business or interpersonal skills as and when the need arises! Individual and group modules are available on site or remotely.
Our digital campus enables employees to enhance their skills independently through e-learning and online conferences on various themes: wellbeing at work, stress management, public speaking, teleworking, office software, boosting your creativity, etc.
Skills development is also discussed during the customary meetings held each year between employees and their managers. These discussions help to identify any training needs.


Improving our management and collaborative approaches
The sustainability of our businesses will increasingly depend on our collective intelligence. At Relyens, we want to bring this intelligence to the fore by ensuring that every employee plays an active role in our business project and their own professional development. Being a learning organisation is one of the keys to our long-term success.
We arrange workshops using collaborative methods to identify concrete, easily implemented solutions in three focus areas: autonomy, collaboration and development. They foster employees' personal development and enable participants, through active listening, to find out about their mental models, how they perceive situations and their pathways for progress.
Using the octomine solution, chosen by Relyens, all employees are invited to speak twice a month on various themes such as engagement, professional development, quality of life at work, transformation, etc. This is a good way for employees to express their views and help define areas for improvement for the benefit of each team and the company as a whole.
Also, the group has developed a real culture of feedback between colleagues. The aim is to obtain constructive feedback based on actual situations encountered by each employee, with kindness being the watchword. Since the implementation of our approach in 2021, more than 6,000 feedback requests have been recorded and feedback has been received over 5,000 times. In may 2022, 40 employees helped to make the improvements needed to roll out our approach more widely from september 2022.
Our group is evolving in a changing environment, disrupted by strong competition and ever advancing technologies. We see these changes as opportunities to grow and to better serve our customers and members. This drives us to adapt quickly and effectively so that we can provide optimal solutions to meet their needs.
To do this, Relyens is developing a true culture of agility at every level of the company. Much more than a theoretical management concept, our agile approach shapes our thinking, our collaborative methods and the way in which we implement our projects. It stimulates innovation and creativity within the group, placing employees at the heart of the approach. Focusing primarily on users' needs, our agile approach builds on autonomy and trust and empowers us to continually reinvent ourselves, each in our own way. It enables us to assess the long-term impact of our actions so that we can make sustainable improvements.
Our agile approach was initiated in 2019 with the creation of an agile team at Relyens. From then until 2022, the team has worked on multiple projects. It has tried out different approaches, shared best practices, and organised agile days, hybrid events to raise awareness of agility in a fun way, through ice-breakers, conferences, debates and serious games. Building on the team's work, we are now taking the approach to the next level by rolling it out group wide.
Supporting a more inclusive society
Our differences as individuals create the rich diversity of our group. That is why at Relyens we are highly committed to diversity and gender equality. We are putting a solid management system in place to ensure equality in our recruitment processes and career management approaches.
This initiative was rewarded in 2021 at each of our entities, relyens-gie and Relyens Mutual Insurance, as part of the gender equality index. Under France's avenir professionnel (professional future) law, this index measures the effectiveness of gender equality policies implemented by companies in france with more than 50 employees. On the basis of five criteria, it assigns companies an overall score out of 100.
For 2022, the 94 points break down as follows: 
Gender pay gap: 39/40
Gender pay rise gap: 20/20
Gender promotion gap: 15/15
Percentage of female employees receiving pay rises on their return from maternity leave: 15/15
Number of women and men in the top ten highest paid positions: 5/10
For 2022, the 86 points break down as follows:
Gender pay gap: 31/40
Gender pay rise gap: 20/20
Gender promotion gap: 15/15
Percentage of female employees receiving pay rises on their return from maternity leave: 15/15
Number of women and men in the top ten highest paid positions: 5/10
Being responsible also means giving meaning to our investments
As an investor group and in line with our mission, we are attentive to the Environmental, Social and Governance commitments (ESG criteria) of the companies and projects we finance. In this sense, we have been strengthening our policy in favour of Socially Responsible Investments for several years.
Discover our investments