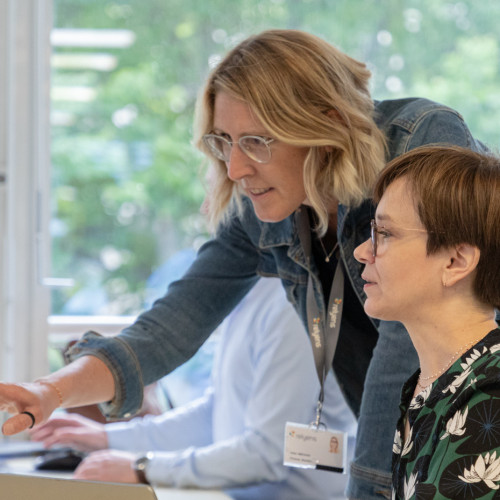 Living the Relyens experience
By your side, throughout your career at Relyens
In line with our mission, we are very attentive to the protection and development of our teams. We support you from the moment you are recruited, before you join the company and throughout your career. Find out how…
Onboarding you in the best conditions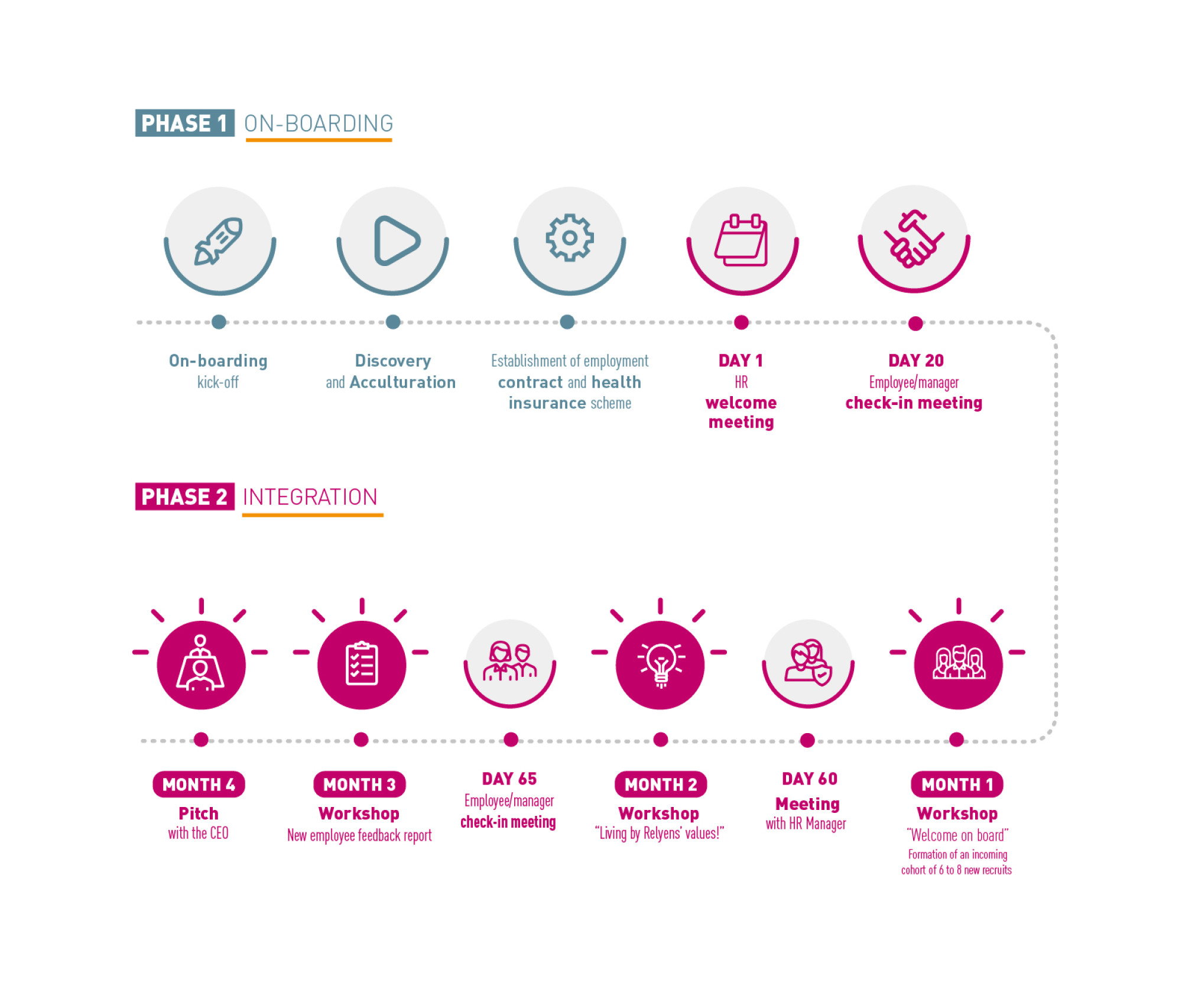 Our employees' testimonials
My most positive experience in the whole induction process was working on a team pitch (amazement report). This is an excellent way to create links between new employees and to collaborate with other departments and entities. This event allows suggestions for improvement to be made within the first few months of employment.

Bruno
The integration of a new employee represents a key moment in their experience in the company, putting them at ease and giving them the means to feel at home in the company. The time and resources devoted to them are greatly appreciated by all, an unprecedented experience for almost all. This shows how important they are to Relyens and to us as coaches, to have this kind of feedback shows the success of these courses.
Odette 
I was able to work in a sub-group of 6 employees on a pitch to the Director General to share our amazement report. I really appreciated this process and the time he gave us.
Alban
It is an opportunity to meet newcomers from other teams and to share our common concerns, during workshops with rich and varied exchanges, both global and more confidential. Generally speaking, I think that this makes it easier to understand our new environment and simply allows us to feel at ease very quickly!
Lucie 
This is a strong point of Relyens, we must capitalise on it and we can be particularly proud of it. These exchanges also allow us to highlight, through the surprise reports, our dysfunctions in the reception process. I think that through all this, we are concretely participating in the improvement of the satisfaction of new employees, of the group's reception process, and certainly of ourselves!
Bruno
Fostering fulfilment at work by making your daily life easier
As a risk manager and a responsible European employer, our Group is committed to continuous improvement. To this end, we are taking action on three issues: Quality of Life and Working Conditions (QLWC), skills development, and the continuous improvement of our management and collaboration methods.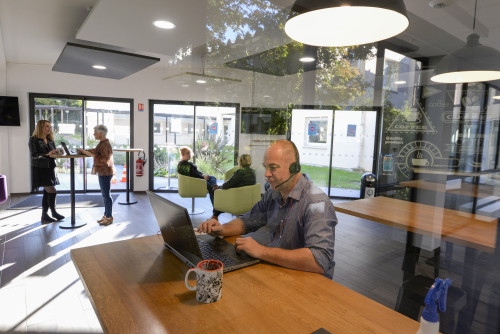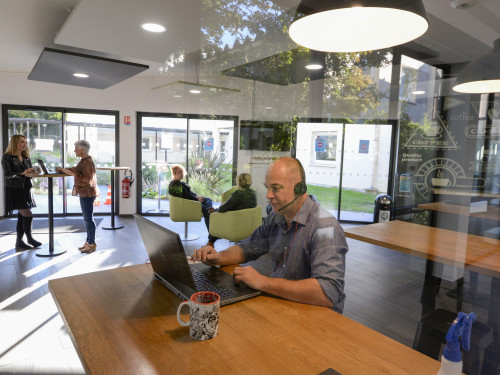 We aim to draw on the advantages of both on-site and remote working to improve our staff's quality of life at work, agility and efficiency. To do this, we are working with our teams to rethink our communication practices, our organisational methods and our relationship with the employee community. We support our teams so that they can develop with confidence in this new environment.
Our remote working agreement allows you to alternate working from home (up to 3 days a week) with working in the office.
In addition, our arrangements in terms of working hours have all been relaxed to give you maximum flexibility in the organisation of your working days!
Your working environment influences your mindset, creativity, decision-making and energy at work. That is why we have refurbished all our european offices to ensure that our layouts, furniture and equipment encourage collaborative working: open spaces conducive to hybrid work, booths for working alone or discussing with colleagues, meeting rooms with videoconference systems, spaces to relax in that are accessible all day long. We want you to feel at ease every day and to feel at home in any of relyens' locations.
Social barometer, Preventive measures, Concierge service (on the french sites), Parenting support (childcare, school support, etc.), Coaching and home support services for caregivers, Health and wellbeing information, Housing support through the french action logement programme
Our Lyon and Bourges sites have fitness rooms accessible every day, at the time of your choice. Join our professional trainers in energetic group sessions or training programs tailored to your level and preferences.
Flexible working hours, Collective remuneration (profit-sharing and incentive schemes), Collective mutual insurance, Meal vouchers, 50% reimbursement for public transport, Social and economic committee
Customising your training
Do you have a new target that requires specific support, a project that could use some help to progress, or an area of expertise to consolidate? At Relyens, you can receive training whenever the need arises. Individual and group modules are available on-site or remotely to enable you to complete your tasks successfully and with confidence.
At Relyens, managers don't just manage and organise their teams. Their role is to create conditions conducive to your development throughout your career in the group. With a sympathetic eye and a willingness to listen, they help you to improve in your practices and your job by providing the right tools and facilitating your interactions with the hr team. Your annual review provides an opportunity to identify and document your needs together with your manager and to draw up a personalised development plan.
Don't wait for traditional learning modules if you want to learn and develop! The digital campus is accessible to all, without registration, at any time, to support you in your development. We are transforming learning in order to be a learning company.
Many online modules and conferences are available on various topics: wellbeing at work, stress management, public speaking, remote working, boosting creativity, etc.
You can also use the platform to learn the group's languages (French, English, Spanish, Italian, and German) through virtual classes and e-learning modules. This language learning technique fosters cross-cutting collaboration among our european teams.
Improving together
Convinced that an organisation needs to evolve and learn every day in order to fulfil its mission, at relyens we are developing a learning company. This means that our employees play an active role in our strategic plan and their own professional development.
Find out how!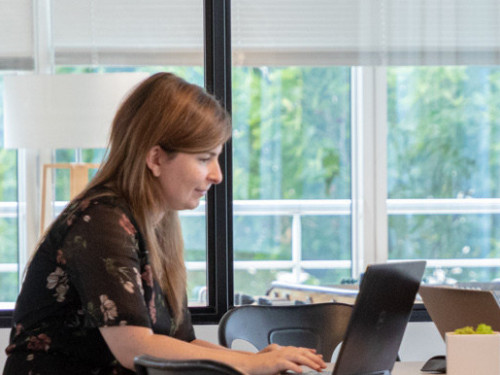 Relyens, a company that gives meaning
To be part of Relyens is to participate in an ambitious project that makes sense, in the service of the general interest missions of the European actors of care and territories. Together, let's get involved for those who commit themselves.
We Are Relyens